Submit your Favorite Genealogy Links
Dear Firstname,
Welcome to the fifth edition of the GenoPro Newsletter. If you missed our previous newsletters they are available online.
Announcing a new free service - Genealogy Links
Many GenoPro users are amateur genealogists and are interested in finding online information on their ancestors. In order to better help users create their genealogy tree, GenoPro has created a new section on the Website where users can submit their favorite genealogy links.
The site is divided in multiple categories to help GenoPro users find relevant Websites for their genealogy research. The first category is "Searchable Databases", featuring Websites that allow users to look for their ancestors by searching through large databases.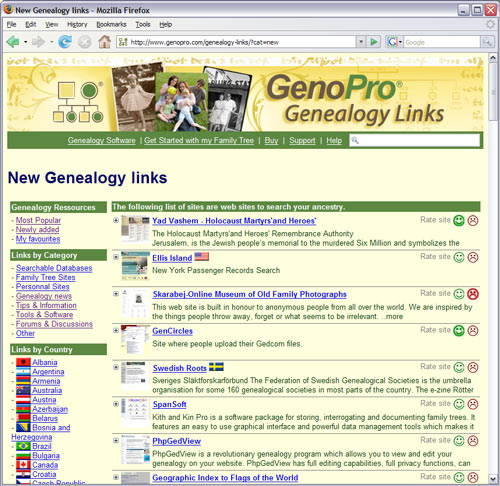 To allow for a geographically-specific use of the resources, the list of links is categorized by countries. You can select your family's country of origin to find information on genealogical data specific to that country. When you submit a Website, indicate if the information contained in the site is specific to a certain country.
There is also a voting system to allow everyone to vote on the quality of the Websites. This option provides a classification system for the links. You can vote by clicking on the happy face or the unhappy face. By clicking on the happy face, you will promote the better sites to the top of the list in its specific category. With a user-defined classification system, the better sites will be promoted through a democratic process.
Voting for excellent Websites will also give you the advantage of creating quick bookmarks for your best references. All the Websites who received a favorable vote on your part will be placed in your Favorites.

All links titles, descriptions and categories can be modified by anyone. Should you want to add information or make a change, click on the Edit Link and correct or complete the description of genealogy related Websites of your choice.
As a contributor, you may also choose to leave a comment or to provide extra information for each links. Include all information that you believe could be of use to your fellow users.
You can submit a link to the database by filling out a simple online form.
Guideline: Please only submit genealogy related sites that contain original content. For Internet portals, or pages that only have links to other sites, please submit all the sites individually.
GenoPro compatible with Wine (Linux and Mac)
The newly released 2.0.0.5 version of GenoPro has been modified to be functional under Wine (http://www.winehq.org/) and it has been tested with the Linux Operating System. Although not all functionalities of GenoPro are working to their full capacity, you can view and edit your family trees on GenoPro.
Wine claims to be compatible with Mac (Intel based), we would appreciate if some Mac user can test it out and give us feeback about it.
All your comments or questions regarting Linux and Mac compatibility should be posted in our support forum.
Wine setup instructions: https://www.genopro.com/setup/wine/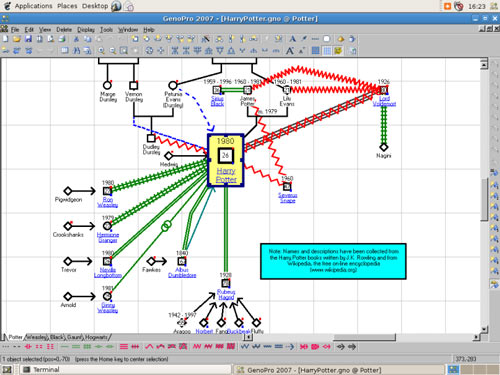 Screenshot of GenoPro running under Linux
---
Video: Assigning Colors to Specific Groups

In this video, the user should learn:

How to use the sorting of the Table Layout to group objects together. The first demonstration is to color in black all the deceased individuals.
How to use the Undo.
How to use the Table Layout again to sort by gender, thus grouping all males, females and pets. Using the multi-select (by holding down the Shift key), the user can select multiple individuals and color them at once.
How to hide some rows from the Table Layout to further refine the display or perform more complex searches.
How to color the rest of the tree, such as the males in blue and pets in yellow.

Video : Assigning Colors to Specific Groups

---

Video: Changing the Mate Order

This short video teaches the user how to change the order of the mates in a multiple marriages/unions scenario.
The user will also learn to change the mate order under the properties screen in the event that the union dates are not known.



Video: Changing the Mate Order
This newsletter was sent to email@example.com. You are receiving this newsletter due to one of the following reasons:
You have manually subscribed to our newsletter.
You have previously purchased GenoPro.
You have requested a free registration key.
You have posted a message to our support forum at http://support.genopro.com/.
You have created an account to perform an online backup, published your genealogy at http://familytrees.genopro.com or sent a genealogy document to another user.
Use the GenoPro Control Panel to update your contact information, such as name or add alternative email address.
Visit https://www.genopro.com/unsubscribe/ to remove your email from our newsletter. We honor every "Unsubscribe" claim, no questions asked.