GenoPro Newsletter - February 2007
Genealogy Video Tutorials
Dear Firstname,
Welcome to the second edition of the GenoPro Newsletter. If you missed our first newsletter, Announcing GenoPro 2007, it's not too late to take a look at it to find out all about GenoPro's newly-released version, including its brand-new features and benefits.
In the past few weeks, we have sent a survey out to everyone who has purchased GenoPro. The survey participation rate was 43% and we received several thousand written comments on how to improve GenoPro. The most popular feature requested for the next version of GenoPro was the Problem Spotter followed by a Better AutoArrange.
By popular demand, we have created video tutorials to help you get the most of GenoPro for creating your family tree. For this newsletter, we have included four videos, and we plan to produce over 100 videos to cover all aspects of GenoPro.
---

This video shows you how to split a large family tree to free up some space on your pedigree layout without losing the parent-child hierarchy. With only two mouse clicks, you can move an entire branch to another tree (GenoMap).

GenoPro takes care of the rest, by creating the necessary hyperlinks to connect the trees. The benefits of supporting multiple sub trees cannot be understated, as it is the cornerstone of scaling large family trees containing tens of thousands of individuals. Without the ability to split a large tree into smaller sub-trees, it becomes very difficult to organize information or to create layouts suitable for printing.

Video: Splitting a family tree

---

This video teaches you how to generate a report with two easy clicks, and then shows you the various features of an HTML-generated report, including interactive SVG (Scalable Vector Graphics).

The HTML report is useful to produce an overview of your family tree and to revise its accuracy. You can also share your genealogy by publishing the report online at: http://familytrees.genopro.com.

Video: Generating an HTML Report

---

This video teaches you how to open a Gedcom file from another genealogy system in GenoPro, and also how to manually arrange the pedigree layout in case of overlapping.

If you have genealogy data from another software, or purchased CDs containing genealogy data, then you can import them in GenoPro.

Video: Importing a Gedcom file

---

This video teaches you how to create twins or triplets. Although twins are rare cases in family trees, the video shows the basics of how to create special links between individuals born on the same day.

Video: Creating Twins

---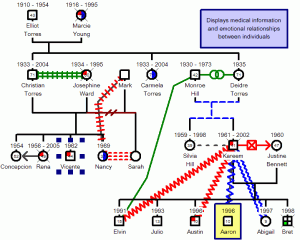 A genogram is a family tree that comes alive. Families are complex systems that interact with other communities and kin groups, of which they are a part of, and they cannot be fully understood without the wider context in which they live. Genograms contain a wealth of information on the families represented because they allow you to illustrate not only how members of a family tree relate to each other, but how they are a product of their time, by their behaviors, friendships, and many more.
"A genogram will not only show you the names of people who belong to your family lineage, but how these people interact with each other."
Family trees are only a mere representation of generic parent and child links. However, there are complex interplays within a family unit which can only be understood through the use of a genogram. A genogram will not only show you the names of people who belong to your family lineage, but how these people interact with each other and with others who are significantly involved in their lives (clan or tribe members, slaves, tutors, godparents, live-in nannies). For example, a genogram will illustrate how your Vietnamese grand-mother's arranged marriage was determined before she was born through alliances, and how your African-American cousins ended up in Nova Scotia in the early 1800's. Even if you want to keep your work simple by including only your immediate family, you can quickly illustrate in your genogram that your uncle George and his wife Anita have two children, but also that their youngest child was sent to boarding school, that Uncle George suffered from depression, was an alcoholic, and a philosopher, while Aunt Anita has not spoken to her brother for years, has breast cancer and has a history of being unfaithful. Family history has never been so interesting!
As a genealogist, genograms will allow you to depict significant persons and events in your family's history. Genograms can also include annotations about the medical history and major personality traits of each member of your family. Genograms will help you uncover intergenerational patterns of behavior, marriage choices, family alliances and conflicts, the existence of family secrets, and other information that will shed light on your family's present situation. What better reason to do genealogy than to be able to learn life lessons from your ancestors...
The word "genogram" was first proposed by Dr. Murray Bowen in 1978 as a replacement for the longer term "family diagram". The origin of the use of the term genogram is shrouded in mystery. What we do know is that Murray Bowen began using it in the late 1960's and by the 1970's the use of it by Bowen Systems Therapists was widely accepted. At the same time the concept was becoming accepted in the emerging field of Family Medicine and in the late 1970s a group called NAPCRG (North American Primary Care Research Group) had undertaken to standardize the symbols. The coordination of this group was given to Monica McGoldrick in 1980 and the group's standardization was published in the lst edition of Genograms published by WW Norton in 1985 by Monica McGoldrick and Randy Gerson. Since that time the symbols agreed to by senior family therapists and family physicians at that time has been expanded and the most recent symbols from that framework will soon be available on GenoPro.


The concept of the genogram has been expanded by Monica McGoldrick in her book titled: Genograms: Assessment and Intervention (3rd edition due this fall). The symbols and patterns described in that book will be fully available from GenoPro shortly.


The term genogram has not yet been added to the Oxford English Dictionary, but it does have an entry in Wikipedia.


The National Society of Genetic Counselors created standardized symbols for genograms in the 1980's. However, GenoPro and Monica McGoldrick will be collaborating to unify newer genogram symbols to include in our software and in future editions of McGoldrick's book.


Genograms are not limited to family members. They can also include people who play an important role in the dynamics of the family, such as godparents, clergy members, friends, neighbors, colleagues, etc.


Genograms are often used in family therapy to help identify destructive patterns of behavior.


Genograms can be used in genetic research to identify traits that are passed from one generation to another.
As we saw above, one of the reasons to research your family history is to find out about hereditary diseases that run in your family. To see a clear picture of genetic diseases that run in your family, you can create a
medical genogram
.
How to put together a medical genogram:
The first step in creating a medical genogram is to talk to your relatives about their health history. For your medical genogram, take particular interest in diseases such as cancer, heart disease, high blood pressure, diabetes, asthma, mental illness (Alzheimer's disease, depression, schizophrenia, learning problems, mental retardation), thyroid disease, stroke, kidney disease, birth defects (spina bifida, cleft lip, heart defects), and others. Also, pay close attention to cases of alcoholism, smoking, and drug use.

Record the age at which the condition began, as this can be relevant information. For instance, did your grand-mother develop breast cancer at age 39 or at age 80? This may help to determine if you are predisposed to such a disease. Information on the age at death of deceased relatives can also be relevant. Don't forget to include the ethnicity of your ancestors, as some genetic health problems occur more often in specific ethnic groups.
"A medical genogram is helpful in determining patterns of disease or illness within a family."
A medical genogram is helpful in determining patterns of disease or illness within a family. Parents are an excellent source to begin with in collecting data: ask them about their parents, their siblings and their cousins. Older relatives such as grand-parents, great-aunts and great-uncles can also offer lots of information. Some relatives may not be comfortable with the idea of sharing their medical history or that of their close relatives. This is especially true in cases where the health issue is associated with a social stigma, such as obesity, physical handicaps, mental disorders, or AIDS. Also, they may not be aware of diseases that occurred in their family when they were younger. However, whatever information you can gather can prove to be helpful.
Ask your relatives if they have collected family trees, charts, or listings of their family members. Health information may be recorded in baby books, birthday date books, or a family bible. Some pictures may also reveal a case of polio, or other physical disorders.
Medical records are the most helpful written resources for your medical genogram, but they may be difficult to obtain due to confidentiality limitations. You may want to consult death certificates, as they include a "cause of death" section which may be helpful if death was the result of natural causes, such as an illness.
For those who have been adopted, medical genograms can be a real challenge. Your adoptive family may be able to provide you some information, or you might be able to gather some from the adoption agency records. Again, if your biological parents have passed away, their death certificate may be of special interest.
Visit the medical genograms page [https://www.genopro.com/genogram/medical/] to learn more about creating medical genograms with GenoPro.
When you share your genealogy research with others, it is important that the information you provide is accurate and verifiable. GenoPro has a unique mechanism to document sources and citations, offering a flexible hybrid interface to record where information came from. Each major event, such as birth, death, or marriage has a dedicated source field, and each object such as an individual, family, or picture has a dedicated Sources tab for adding as many sources as necessary.
The process of adding a source is rather easy; just type a name in the dedicated source field. Internally, GenoPro will create a source object where you can edit its content later, including changing the source name or adding pictures. To edit a source, press Ctrl+E and you will get the following dialog: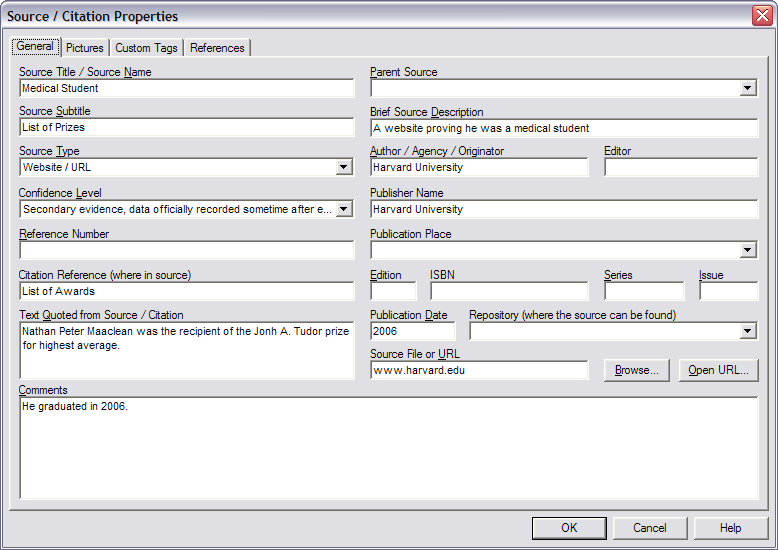 Documenting everything in genealogy searches is not the most exciting thing to do, but it will allow you the possibility to go back to these citations to verify questionable data when conflicts occur and to pursue your research in the original record should you require more information later on. Most of all, it will help others to benefit from your documented research in their own searches, just as you have benefited from the help of others along the way.
In our next newsletter, we will include a video tutorial how to create hierarchical sources. This way, you will not have to duplicate information when creating similar sources and citations.
This newsletter was sent to email@example.com. You are receiving this newsletter due to one of the following reasons:
You have manually subscribed to our newsletter.
You have previously purchased GenoPro.
You have requested a free registration key.
You have posted a message to our support forum at http://support.genopro.com/.
You have created an account to perform an online backup, published your genealogy at http://familytrees.genopro.com or sent a genealogy document to another user.
Use the GenoPro Control Panel to update your contact information, such as name or add alternative email address.
Visit https://www.genopro.com/unsubscribe/ to remove your email from our newsletter. We honor every "Unsubscribe" claim, no questions asked.